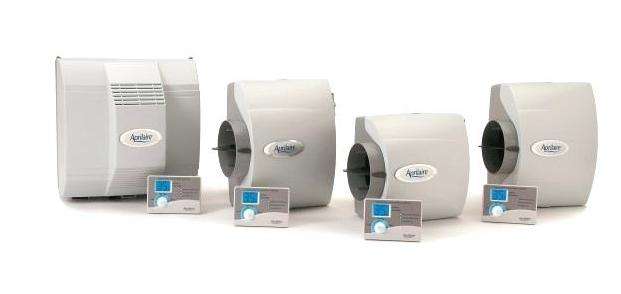 Improve the Indoor Air Quality of your Home
Indoor Air Quality, or IAQ, is increasingly becoming one of the most important factors for general comfort and health. Proper air filtration and humidity not only make it more pleasant to be in your home, but it also makes a real difference in health and well-being.
If you are looking to add an electronic air cleaner or humidifier to your home, here is what you can expect when you give Mountain Breeze Heating & Air, Inc. a call:
Responsive customer service that will book the call for when it fits your schedule
A technician will arrive within a two-hour window and give you a fair price
When you decide to go forward with the project, we will schedule your installation ASAP
A friendly, clean install team that works quickly and efficiently to get the job done correctly
A full demonstration showing you how your new investment works and what will need to be done for maintenance
You will be able to reach us after the installation with any questions you may have
Mountain Breeze Heating & Air, Inc., offers a variety of indoor air quality products to improve the air quality of your home. Listed below you will find our favorite products:
Honeywell Electronic Air Cleaner System
An air cleaner that's low cost and low maintenance
This is the most affordable and durable air cleaner on the market. The F300 Electronic Air Cleaner from Honeywell is our top pick for whole-house air filtration. This air cleaner works efficiently to capture up to 99% of airborne particles from the air passing through the filter and requires minimal maintenance while doing so. Simply remove the filter every 6-12 months, wash it, and replace it. No replacement filters are needed.
3-stage filtration system
Captures up to 99% of airborne particles from the air passing through the filter
Renewable and eco-friendly
No replacement filters needed
Honeywell offers an exclusive 10-year Clean Coil Guarantee
Five-year parts warranty
Aprilaire 800 Steam Humidifier
High Output – This model of humidifier can serve healthy levels of humidity to homes up to 6200 sq feet. There are 6 variations of output settings that can be dialed in to fit your particular home.
Minimal Maintenance – The canister needs to be replaced once per year. This is all that needs to be done. No more dealing with white dust and moldy humidifier pads!
No Water Purification – This model effectively uses normal house water to generate humidity. No longer do you need a purification system for your steam humidifier to work properly
Healthy Humidity – In Colorado's arid climate, most traditional bypass humidifiers will not provide sufficient humidity. Aprilaire 800 Steam Humidifiers can get your house to 35% – 45% humidity, which is generally considered a healthy level, reducing the risk of bacterial and viral illnesses.
Fan Activation – The Aprilaire 800 Steam Humidifier can activate the fan blower in your furnace. This means that the heat does not have to be on for the unit to work.
Perfect For Wood Floors and Furniture – Humidity is needed to keep wood floors and wood furniture from popping and cracking. If you have a good amount of either in your home, you should seriously consider adding an Aprilaire 800 Steam Humidifier to protect the integrity of your wood floors and furniture.
Five-year parts warranty – excludes canister
11.5 to 34.6 Gallons per day
Requires dedicated electrical circuit
Installed in 2 hours
Aprilaire and Honeywell Bypass Humidifiers
Bypass humidifiers by Aprilaire and Honeywell are a more budget-friendly way to add humidity to your home. Our technician can provide insight into when these may be a better option for you than a steam humidifier.